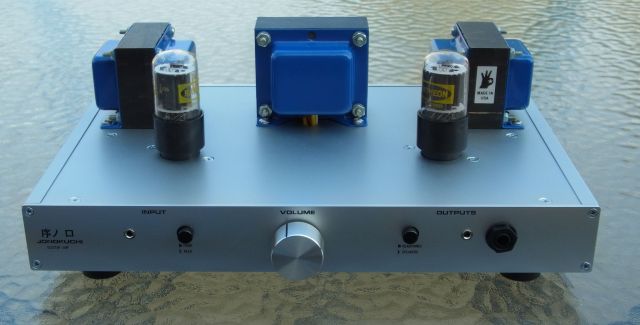 The "Jonokuchi"
Quantity Discounts
10 pcs
25 pcs
100 pcs
500+ pcs
5% off
10% off
15% off
20% off
Orders over 25 pcs may take longer. Please contact us for scheduling and dates.
Power and audio output transformers for Pete Millett's "Jonokuchi" Desktop headphone / speaker amp using 13EM7 tubes.
The "Jonokuchi"
A desktop tube headphone amplifier design that can also drive small, efficient speakers (like computer speakers)using 13EM7 tubes designed by Pete Millett. For more information, schematics and circuit boards see Pete Millett's DIY Audio pages on the "Jonokuchi". Circuit boards for this project can be found on Pete Millett's ebay store.
Power Transformer
The XPWR168 power transformer was specially designed and built for this amplifier. It is a 120V or 240V, 50/60Hz. line to 275V (137.5-0-137.5) at 125mA and 13V (6.5-0-5) at 900mA center tapped. The Transformer also has an outer copper shield around the windings and core to help eliminate outside interference.

Audio Output Transformers
There are two GXSE10-8K singled ended output transformers. 10W, single ended tube output transformer for 8K Ohms to your choice of 4, 6, 8, or 16 Ohms.