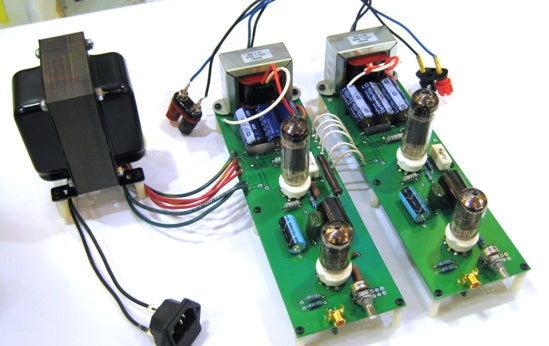 Zen Kit #2 - Triode mono SET amplifier kit
Quantity Discounts
10 pcs
25 pcs
100 pcs
500+ pcs
5% off
10% off
15% off
20% off
Orders over 25 pcs may take longer. Please contact us for scheduling and dates.
Power and audio output transformers for "Zen Kit #2" by DECWARE.
Zen Kit #2
A triode mono SET amplifier. A take on DECWARE's original Zen Triode amp. Up to 3 boards can be ran off of one power transformer. Purchase DECWARE's circuit board from their Zen Kit #2 page. You can also find a parts list, assembly instructions, and a schematic.
Power Transformer
The XPWR107 power transformer is a 120V, 60Hz. or 240V, 50/60Hz. line to 600V (300-0-300) at 150mA center tapped and 6.3V at 4A.
Audio Output Transformers
There are two GXSE10-8K single ended output transformer. 10W, single ended tube output transformer for 8K Ohms to your choice of 4, 6, 8, or 16 Ohms.