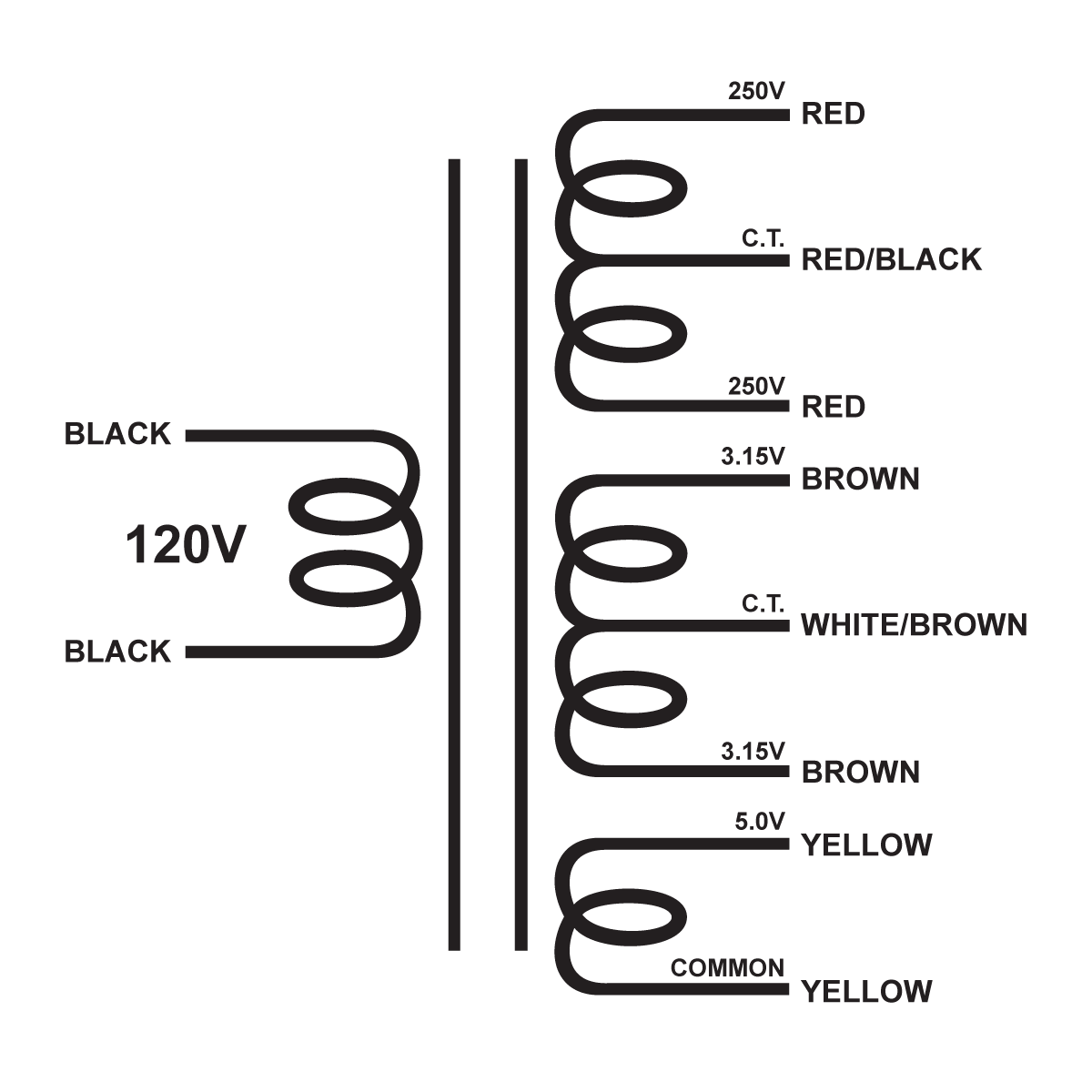 XPWR001 - 500V@100mA CT, 6.3V@1A CT, & 5V@2A.
Quantity Discounts
10 pcs
25 pcs
100 pcs
500+ pcs
5% off
10% off
15% off
20% off
Orders over 25 pcs may take longer. Please contact us for scheduling and dates.
Tube amplifier power transformer with a primary of 120V at 60Hz. to secondary of 500V(250-0-250) at 100mA center tapped, 6.3V(3.15-0-3.15) at 1A, and 5V at 2A.
Specifications for product XPWR001 - 500V@100mA CT, 6.3V@1A CT, & 5V@2A.

Specifications

Series

Model (SKU)

Stock-Keeping Unit.

XPWR001-120

Primary

Secondary

Total Volt Amperes

Termination

Mounting

Mounting Orientation

End Bell Color

Winding Configuration

Leakage Inductance

This is an approximated value.

Temperature Rise

Continues full current approximated value.

Primary

Voltage

120V

Operational Frequency

DC Resistance

This is an approximated value.

2.975Ω

Inductance

This is an approximated value.

Secondary

Tube Voltage

500V

Other Voltage(s)

6.3V and 5V

Unloaded Voltage(s)

Approximated voltage when no loaded is applied to the secondary.

550V, 6.93V, and 5.5V

Current

Maximum current for each secondary.

0.100A, 1A, and 2A

DC Resistance

This is an approximated value.

83.400Ω, 0.165Ω, and 0.076Ω

Inductance

This is an approximated value.

Physical

Weight

4.57 lb

Dimensions

(Width) X (Height) X (Depth)

Dimensional Drawing (#)

Dimension Drawing (PDF)

Free Adobe Acrobat Reader can be downloaded at Adobe.com.

Material

Bobbin Material

Bobbin Flammability Rating

Magnet Wire

Coil Finish Wrapper

Termination

Core Material

Core Material Size

Core Stack Size

Core Stack Type

Secondary Insulation

Dielectric Strength

Temperature Range

HIPOT Primary-Secondary

Compliance

RoHS

Restriction of the Use of Certain Hazardous Substances in Electrical and Electronic Equipment.

REACH

Registration, Evaluation, Authorization and Restriction of Chemicals in EU.

CMRT

RMI Conflict Metals Reporting Template